CHAPTER 1
Beginning at the End
The 2016–'17 school year had just been completed. A luncheon ceremony on the final day lasted longer than usual. A small celebration commemorating my retirement after forty-one years of service as a physical education teacher and coach was highlighted by the dedication of a new state-of-the-art batting cage in my name. 
With the new facility, I wondered who might be attracted to my "leading-edge" instruction for the perfect application of batting and throwing mechanics.
(Pictures of Brad Marelich – 8th Grade Student)
At 3:00 pm, returning home to our San Gabriel, California, residence, the mid-June, ninety-five-degree heat made it easy to appreciate the air-conditioned environment of our humble abode. I was exhausted and could not easily keep my eyes open.
My loving and indispensable wife, Karen
, and daughter Kimmy
(youngest of our eight children) had already prepared for and were about to embark on their annual one-week "family vacation" to Avila Beach. About twenty members of my wife's side of the family would enjoy the company of each other, clustered together in an assortment of time-share room accommodations. They would have the time of their lives, frolicking in the more hospitable, cooler climate on the central California coast. I always enjoyed the company of all the relatives, but because I needed much more space in which to feel truly comfortable in satisfying my own peculiar idiosyncrasies, each year I declined the vacation opportunity. My demeanor favored, instead, a home-alone respite, from which I could be uninterrupted in my personal literary pursuits.
A small book-shelf in my study area contained an assortment of reference books and sports magazines. Just to its right was my desk, upon which sat my (our family) computer.
In no particularly hierarchal order of sentimental or significance value, my special books lined up from left to right on the middle shelf, for easiest access: King James Bible; Science and Health, with Key to the Scriptures, Mary Baker Eddy; Many Mansions, Edgar Caycey; The Law of Attraction, Getting into the Vortex, and Ask, and It is Given, Jerry and Esther Hicks; A Course in Miracles, Helen Schucman; Plato's Dialogues; and The Science, Art, and Philosophy of Chiropractic, D. D. Palmer. On the third/bottom shelf rested both my self-published The Principle of Baseball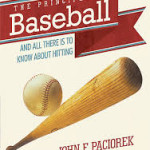 . . . and the not-yet-published Plato and Socrates: Baseball's Wisest Fans
. Along with these, a few books about the life, times, and works of Albert Einstein graced the shelf. Three others were The Tao of Gung Fu: Way of Chinese Martial Arts, by Bruce Lee; The Journeys of Socrates (a book on tape/disc) and Peaceful Warrior, by Dan Millman; and Gary Adams's Conversations with Coach Wooden. Most of my written works are filed in my computer—within which I have submitted hundreds of essays, after conscientious study of various aspects of life, in baseball, metaphysics, and physics. My computer also facilitates the utilization of a website—www.johnpaciorek.com (prepared for me by a thoughtful parent)—which affords me the opportunity to post my essays for the purpose of enhancing public understanding of the correct mechanical application to batting and throwing a baseball. After seeing my family off, I immediately went to my study, where after finding a few good-feeling thoughts to contemplate, I sat/lay down on my ultra-comfortable recliner and almost immediately fell into a sound and restful twelve-hour sleep. But just before dozing off, I thought, If I knew then what I know now, what could have been?
Next: Chapter 2 – The Old Story!