CHAPTER 2
Every time I tell my better-feeling story, I feel better, and the details of my life improve. The better I feel, the better I get. The better I get, the better it gets. Baseball is an endearing and enduring embodiment of the fabric of life's journey, with a perpetually new beginning.
An Old Story:
Most of my relatives and longtime friends had contended that I could have been one of Baseball's greatest players, an All-Star and a prime Hall of Fame candidate. Their opinions were based on my physical athletic ability, as well as on my dogged determination to do what it took to be the best. They thought I was being uncommonly humble when I'd tell them that, in my former mind-set, I could not have been a big-league star.
I had not yet acquainted myself with the astute but indecipherable mental characteristics of a Rusty Staub, Joe Morgan, Jim Wynn, Tony Conigliaro, Tom Paciorek, and others with similarly intelligent approaches to hitting a baseball. Nor did I want to. I was big, strong, and fast . . . so I was content to rely on my instincts and quick reflexes to master the impediments to batting and fielding proficiency.
Fielding wasn't a problem, as I worked diligently and perfected every aspect of that dimension of the game. (Better throwing mechanics would have eliminated some arm problems.) But a mastery of hitting a baseball had components for which my purely natural tendencies were not compatible. (The true principle of batting acumen was to be discovered only after my long apprenticeship in the observational arena.) It eventually became obvious that the challenges in facing the professional mounds-man went beyond a batter's physical stature or how good he looked in his uniform.
After "The Game"
The 1963 regular Major League Baseball season had ended on Sunday, September 29. Less than a week later, I was at home in Detroit, preparing to leave again for a month of winter baseball in Sarasota, Florida. I would play on a co-op team with the Boston Red Sox.
I can remember sitting on the bed in a room that I had sometimes shared with two other siblings, in our modest family home at 13432 Moenart Street. At that time, it was the fifth house from the corner, between Luce and Rupert, in what could be considered a low-middle-income Polish Catholic community. (Less than fifty years later, it would become the corner house due to inevitable social decline and fires that destroyed the first four houses.)
Our neighborhood consisted of rows of two-story wood-framed houses, spaced about eight to ten feet apart, with oak trees lining the streets. This tract of land, whose area covered at least a few square miles, was developed during and after World War II. It offered housing to GI veterans returning home and facilitated their use of government loans that were available in appreciation of their good service and securing a US victory.
My dad fulfilled his obligation to the Army while attending to the defense of the Pacific front. He made it back physically unscathed. But a close brush with death might have instigated a reformulation of thought that ultimately had future consequences for both him and his newly expanded family.
While stationed in the Philippines, near the end of the war, he, along with an Army buddy on each side of him, were moving with other soldiers up a hill that they perceived to be unoccupied by enemy fortification. When they reached the top of the hill, enemy fire ensued, and his buddies were shot dead beside him. Later, like any normal respondent to such catastrophe, he interpreted the incident as an omen that should cause him to reevaluate his life's future. He had to wonder, "Why wasn't I killed?"
After much contemplation, he inwardly expressed deep gratitude for a second chance to show more appreciation for the Catholic religion that he had grown up supporting. He must have felt that he now had a direct order from God to be more responsive to the dictates of the Church (since it had validated itself to him as the only true religion). Dad eventually became a staunch advocate of the "infallibility of the pope," since the pontiff was accredited by the Church as the "vicar of Christ" on earth. And Dad strictly enforced the Catholic rule upon all who were under his immediate sphere of influence—specifically, his children (eventually there were eight of us, and I was the eldest).
My parents were married in May of 1942, and immediately Dad was drafted into the service. He had a month-long deferment before he had to report for duty. During that time, the newlyweds began preparing for their extended family. However, the twins they were expecting were born prematurely and died. Then while Dad was on leave in San Diego in May of 1944, another attempt proved more successful, and I was born on February 11, 1945 (six months before V-J Day). Dad saw me for the first time on February 2, 1946, when I was almost one year old. My brother Tom was born nine months later, on November 2 of the same year. I could imagine the thrill of our first encounter! I was one of millions who were at the forefront of a new generation that would be known as "baby boomers."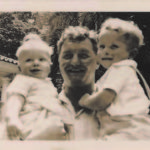 As a child, I thought of our community as a thriving, hospitable environment. Kids were safe and free to expend their energies in their yards or at one of the two enormous parks and recreational facilities available. Children of all ages would congregate within their own buddy systems and participate in "choose-up" games for any length of time during the day. Lasky Field was less than a block and a half away. Entering by foot from Luce, it extended southward to Charles Street and Fenlon to the west, an area of more than a mile. It was where my buddies, Tom, and I would meet and play whatever sport was currently in season.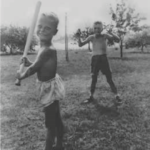 During baseball season, our habit was to mark off the base paths on the soft grass areas, instead of using the softball fields with their all-dirt infields. We'd play all day long, hardly ever thinking of taking time to eat. That probably explains the tanned, skinny bodies that draped the canvas of our playgrounds and backyards at the time. Farther west was a larger grassy area known as Jayne Field, covering about two miles and bordered on the far northwestern corner by a metropolitan police station. The southwest corner harbored Cleveland Intermediate School (junior high), and adult baseball fields were located between those two focal points.
On the east end of Jayne Field were a bevy of well-kept softball fields along Fenlon Street, for adults and youngsters. And on the corner of Charles and Fenlon was a well-lit adults-only sports facility with an elaborately constructed bleacher system from which patrons could watch exciting fast-pitch men's and women's softball games during baseball season and high school football games during the fall.
On the other side of Fenlon Street, on the westernmost part of Lasky Field, was Lasky Recreation Center. It provided many wholesome indoor activities for kids— including boxing, basketball, badminton, as well as arts and crafts, woodshop, and other pursuits. (It was there that my dad insisted that my younger brother, Tom, and I learn how to "box." He was apparently a good boxer in his youth and while he was in the Army.)
If there wasn't a gang of friends to activate a baseball game, Tom and I would simply improvise a game of "strikeout." We played on a section of the well-kept continuum of tennis courts that were strung out the distance of three city blocks (Keystone, Conley, and Fenlon Streets). The tennis court area itself was enclosed by fences opposite each side of the courts, surrounding its large rectangular dimensions. It was against the fence adjacent to Luce that the batter would stand while the pitcher would assume his position thirty or so feet south of home plate. The distance between the pitcher and batter varied with our ages and strength.
As we got older, the pitcher moved further away from the batter. The greater difficulty always was for the batter, since he really had to demonstrate quick reflexes and a good eye to hit the fast-moving tennis ball or rubber ball. But it also allowed the pitcher to develop any skills that might help him prosper later in his young "career."
(Tom developed a superb curveball that eventually caught the eyes of discerning and astute Negro coaches who vied for his services at the Jayne Field Parks and Recreational League. They were "top of the line" coaches who handpicked quality "white" players to play on their "all-colored" teams. It was an honor for a ten-year old kid in our neighborhood to be chosen.)
In "strikeout," the batter could get a single by bouncing the ball past the pitcher; a double if the ball went by the pitcher in the air; a triple if the ball hit the opposite fence on a fly; and a home run if the batter hit it over the fence within the width of an area designated as fair. The batter would bat either right- or left-handed, mimicking the stances and swings of his favorite MLB players. All balls caught were "outs," but most outs occurred from "striking out." The game usually played for nine innings, or until it was too dark to play anymore.
During football season, if the neighborhood gang wasn't available, Tom and I would mimic the antics of running backs on NFL teams and play one-on-one in the backyard. The garage and house were separated by the distance of five yards, with a carpet of uneven, thoroughly worn grass. So we used that measure to score first downs and touchdowns by running back and forth from garage to house until the first down or TD was reached. It was particularly fun in the winter, when the ground was covered with a blanket of fresh, soft snow.
As I remember, my style of running mimicked the actions of an elusive "scat-back" like Doak Walker, or Elroy "Crazy- Legs" Hirsh, while Tom countered with the likes of Marion Motley or John Henry Johnson. Maybe it was because I was always bigger than Tom (at that time), and to avoid running over him, I evaded his tackles with cuts and spins, while he didn't hesitate to run right into me, or through me.
Children were born in our family at varying intervals, but Tom and I were fortunate to be only one year and nine months apart in age. We could regularly practice our sports skills together, at least until I started high school.
Our younger siblings found creative ways to facilitate their own skill development. But it was always fun to include any or all of them in the various sports activities we would improvise in or about our small domicile. Marilyn, or Goog—as my dad used to call her—was always a favorite choice because she was fast, wiry-strong, and tough as nails. You had to be careful not to get on her bad side. You couldn't beat her in a fight, unless you killed her. No matter what you did, she wouldn't stop until you pleaded for mercy. It was customary to run and lock oneself in the bathroom (the only one we had, except the open-faced toilet in our grungy basement that no one ever wanted to use). The lineup of sports prospects eventually rose to eight: Johnny, Tommy, Marilyn (Goog), Joan (Josie), Bobby (Si), Michael (Mike-G), Carole (Yo), and James (Jimbo).
As I sat on the bed, back resting against the headboard, my thoughts suddenly segued from carefree childhood memories to last Sunday's eventful moments. Already five days had passed, and I was just now getting a clear picture of how I felt about the events that occurred before and on that "fateful" day. My mind drifted into pleasant reverie, and I pictured the times and events as being narrated by the strong voice of a prominent Radio or TV broadcaster.
Next: Chapter 3 – Circuitous Path to Glory!