The following is an excerpt from Chapter 40 of my new Book, If I Knew Then What I Know Now. It depicts a 1964 Spring Training game, Houston Colt .45s vs. the New York Yankees at Fort Lauderdale, Florida.
CHAPTER 40
"The Mick": As Good as They Get
It was going to be a long ride, so I found a couple of baseball magazines to read during the trip. The cover picture on one had a photograph of a powerful-looking Mickey Mantle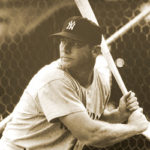 , from the 1950s. There were more pictures inside, but I would wait until I was on the bus before viewing them.
As we were boarding the bus, Ralph Salvon, one of our trainers, was passing out bags of lunch to each of the players. What a pleasant surprise that was! When I was onboard, Joe (Morgan)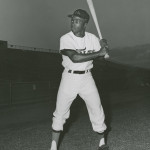 said, "They provided lunches yesterday as well. I saved some of mine for after the game. They just gave out bottles of water for the trip back home."
That was thoughtful! I figured I'd probably be hungry about 11:00 am. Bus travel in the big leagues was great, even in spring training. Nice, comfortable seats on a luxury Greyhound sure was better than minor-league transportation. Since I was earlier than most onto the bus, I sat in the middle and was hoping no one would care to sit with me. Only twenty players were traveling, so most players had private seats. A few "buddies" wanted to sit together. The bus left at exactly nine thirty.
After doing a little "deep breathing" and entertaining some quiet thoughts about today's game, and seeing "The Mick" for the first time, I began looking at the magazine I brought along. Page after page featured Mickey swinging!
All the swings looked good, but some pictures caught "the Mick" either missing the ball
or fouling it off.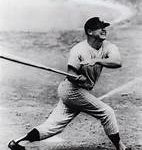 A few of the photographs depicted what I would consider a perfect swing, at the "contact point"
and at the end of his "follow-through."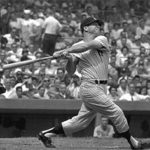 From those images, it is easy to feel as though he might be the most powerful hitter in baseball.
From the start of his "gathering," his front shoulder was wrapped around his chin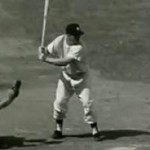 , and his rounded back looked as if it would supply the maximum leverage to accommodate fast and powerful muscular contractions to facilitate the turning action of the upper body through the swing.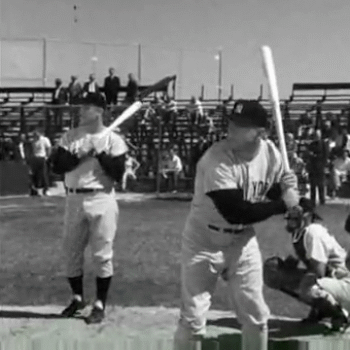 At the contact point
, every part of his body was in order: bent back knee driving the back hip forward with perfect horizontal balance with the front hip. His front shoulder "shrugged" to allow a natural upward tilt to the angle of his bat; front leg straightened with ideal foot-plant (foot, at a 120-degree angle to the pitcher); and an uncommonly well-balanced follow-through. 
His swing not only depicted a perfectly aligned "vertical axis" but a concentrated momentum flow of his hips and shoulders that only further attributed to his incredible flexibility and power.
* * *
I had heard that, before the 1951 baseball season had begun, the Yankees were spring training in Arizona. On a trip to the University of Southern California, they played a few games on the University's baseball field. Nineteen-year-old Mantle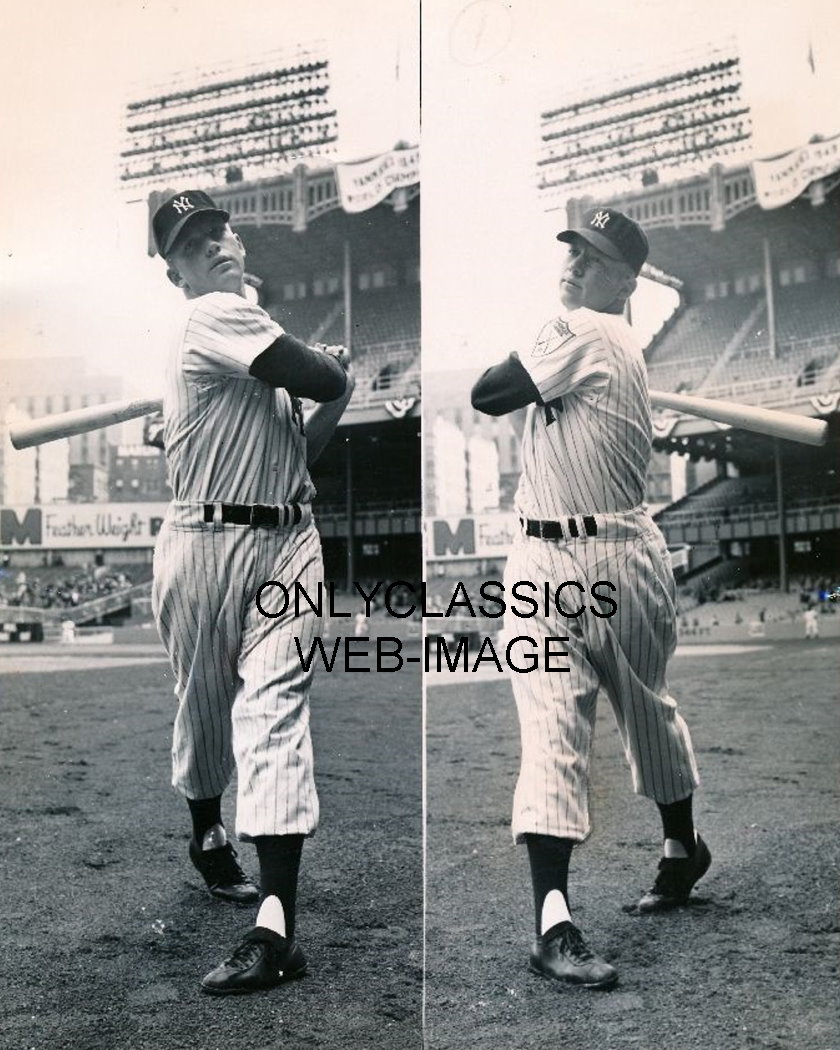 was reported to have hit a right-handed home run 600 feet. Then in a subsequent at bat, he hit one, left-handed, the distance of 650 feet. I had always thought that people were exaggerating, even when more than one reliable source marked off the distance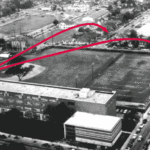 . But after studying the "mechanics" of his swing and calculating the efficiency of his fluid body and range of motion, I realized that if anyone could have done it, it would be "The Mick," even with his weighing just 185 lbs.

* * *
Looking at Mantle in "street clothes,"
I would have to say that he was the most naturally photogenic man I'd ever seen. He looked good in everything.
His head, his face, every part of his body seemed perfectly proportioned.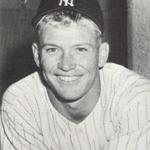 He certainly was the "all-American boy," and most sports fans saw him that way. Too bad he was injured so much.
"Bussie" was really rolling down the highway! We made it to Fort Lauderdale by eleven forty-five. I ate most of my roast beef and Swiss cheese sandwich by eleven o'clock. So after a restroom break, I was ready to play.
When I walked onto the field, I was hoping to see Maris and "the Mick," at least sitting in the third base dugout. The Yankees finished their pregame workout ten minutes earlier and wouldn't be out until right before warming up again for the game.
I thought I'd better go out to left field and see if there were any peculiarities I should be aware of. Everything was fine. The sun might be difficult only when I go to my right. Rusty will be looking right into it later in the game.
After throwing a little with Rusty, we took infield/outfield practice and were ready to start. The Yankee lineup did include Maris and Mantle. Maris was hitting third, and Mickey was "cleanup," followed by Tom Tresh, Joe Pepitone, Elston Howard, Clete Boyer, and Whitey Ford. Phil Linz and Bobby Richardson were batting in front of Maris.
Bob Bruce was pitching for us, so with Maris, Mantle, Tresh, and Pepitone, four lefties would be batting in a row. Rusty might get pretty busy. I wondered if I'd have to be doing a lot of "backing up" along the third base line?
We were up first, so my first concern would be to bat against the "legendary" Whitey Ford. Because of our lineup change, Joe Gaines stayed at home, and Jimmy replaced him. Because of the left-handed Ford pitching, Jimmy was batting fourth, behind me, followed by Walt, Rusty, Aspro, and Bateman, as well as Bruce…
Our half of the first inning ended as we had taken a 2-0 lead, with the mighty Yanks coming up. I raced out to my position, and as he jogged in, Mickey paused and turned back to give me a look then continued into his own dugout.
Someone was going to have to get on base, if I was going to see Mantle bat this inning. The bottom of the inning began with Phil Linz hitting a ground ball through the right side of the infield for a base hit. Bobby Richardson then wasted no time in driving a base hit to right field as well. Since the ball was a line drive between Rusty and Jimmy, Linz, a runner with good speed, decided to go to third. He must not have been aware that Rusty had a very good arm.
Rusty fielded the ball and threw what appeared to be a "strike" to Aspro at third base. Unfortunately, the ball careened off the back of Linz's helmet. Bruce was "backing up" the play, in a direct line with the throw. But the ball ricocheted to his far left, even before Linz could begin a slide. Third base coach Frankie Crossetti reacted immediately and waved his arms and yelled out to keep going home.
What no one else realized was that I was performing my customary "hustling duty," as I would always do when playing left field. When the ball was first hit toward right center, I immediately started running toward the third base dugout. Not very often is there a chance to do something spectacular, but when a circumstance would occur, I never wanted to miss my opportunity for something "heroic." And the current incident certainly presented that moment for "glory."
As soon as the ball careened from Linz's helmet, the Yankee coach seized the opportunity to capitalize with an immediate response. But since I was "there" to retrieve the ball, I caught it and moved quickly toward third, getting ready to throw to Bateman, at home.
Linz had already rounded third at full speed before Crossetti realized I had "materialized out of nowhere." He then yelled for Linz to "get back." Linz stopped about twenty feet off the bag and started coming back. But he saw that I was coming fast, with the ball in my hand. So he automatically got into what he assumed would be a "rundown."
But I had a "full head of steam" and was running straight at him. He started for home, but before he lost complete sight of me, I faked a throw, which made him hesitate momentarily, allowing me to run him down and apply a quick tag. Richardson had already advanced to second, on the throw to third, and was thinking about advancing again, with the impending "rundown" in order.
When I made the "tag-out" quickly, I immediately looked for him and found him far off the base at second. With the baseball already in my throwing hand, I quickly set myself and "rifled a bullet" to Joe, who put the tag on the diving Yankee, to complete an unconventional "double play."
As the play ended, I was standing near the Yankee dugout. I heard a loud voice at the front end and looked to see and hear what was being said. There was The Mick, with bat in hand, ready to approach the "on-deck circle." I heard him say, in a patronizing tone, "Looks like we got us another Charlie Hustle."
I ran back to my left field position, as my teammates applauded my exploits. I assumed Mantle's comments were complementary. How could they not be? I thought.
There were two outs, and Roger Maris was up. He was an impressive-looking hitter, with a smooth swing.
From what I had read, I always felt bad about how unappreciated he seemed to be, especially after breaking Babe Ruth's home run record. I wished he could have appreciated his own accomplishment in a manner more suitable to its heroic value. I guess, in time, he will receive his "just due."
On Bruce's second pitch, Roger "turned" on an inside fastball and sent a towering fly ball to deep right field.
Rusty turned to go back for it, but after a few steps, he knew his effort would be futile.
With the score now 2–1, The Mick was coming up for his first at-bat of the day. While Maris was impressive in his demeanor and stance, Mantle was "imposing!" He wasn't that big, but his "stature" reminded me of that Chinese American "gung-fu" guy in Fresno. Mickey and Bruce displayed a physical presence that defied general perception. Although this would be my first actual, personal encounter with the Yankee slugger, the pictures and television viewings of his exploits saturated my mind with memorable visions of monumental proportions.
He's batting left-handed against the right-handed (Bob) Bruce. He's generally a "pull hitter," but he did hit home runs to the opposite field and "off-balanced" grounders that he was once able to "beat out" for hits. "I doubt if I'll see much action from off his bat. But I'll be ready any way," I admonished myself.
As I watched from my left field vantage point, I could not help but be in awe of the power he could generate in his swing. His feet were relatively close together (shoulder-width apart), knees were bent naturally to facilitate maximum balance, while his body leaned slightly toward the plate. His front shoulder was turned inward, and his hands held his bat perpendicular to ground, at the height of a "high-strike."
Bruce's first-pitch fastball was swung at with ferocity and sent a foul ball whistling directly back behind home plate; he just missed it. The next pitch was "off-speed" and caught Mickey (and his long stride) way out in front, while "topping" a ground ball into our first base dugout.
With an 0–2 count, Bruce threw a curveball in the dirt. Although Mickey almost swung, he held up, off his front foot. Now with a 1 and 2 count, Bruce made a big mistake in trying to throw what looked like an outside-corner fastball past the Mick.
From my standpoint, I could see the coiling action of Mickey's "gathering mechanism" synchronize perfectly with his ostensible stride. As his front foot planted, the torqueing action of his body came into synergistic accord with his entire batting regimen. As his front leg straightened to initiate the backward movement of his opening front hip, his back bent knee had already begun its forceful drive forward with his fast turning back hip.
Then the fluid and powerful upper body came into play as his "shrugged" front shoulder turned violently in circular fashion around his horizontally rotated hips. This action brought his back shoulder, arms, and bat to the focal point where "hickory and a hardbound leather projectile" came into a perfectly orchestrated coincidental contact.
At contact, I could see the "towering trajectory" and knew immediately that Jimmy wasn't going to catch that blast to straightaway center field.
As I detected the directional flow of the ball at impact, my body responded instinctively with a quick burst toward center field. But after two steps, I could see there would be no need for "backup."
That missile traveled well past the four hundred–foot distance to the fence. Even as I was moving toward center field, my mind's eye could picture Mickey's "picturesque follow-through." His back shoulder didn't stop, after contact, until it had driven his back arm to extension through the swing and wrapped around the right-front portion of his body and placed itself directly in front of his twisted torso.
What muscular joint flexibility! It's no wonder he could generate such power. If he didn't stride, he'd probably be less apt to swing and miss as much as he did. As I was watching his somewhat "limping trot" around the bases, he seemed to deviate from his customary, "humble, head-down" demeanor when, after rounding second base, his head tilted right and his smiling glance seemed to imply that he was still a formidable force to be reckoned with. My own "thumb-up" certainly confirmed that inference.
If you enjoyed that excerpt, you'll no-doubt enjoy the other 52 chapters of my Book when it comes out of publication sometime in February. I might include other excerpts from those chapters before the publication date.