"A good hitter is not merely one who makes solid contact with the ball. But rather, he is a batter whose body mechanics facilitate the action of the swinging bat to contact and continue through the ball at an angle that provides for a straight (non-hooking or slicing) and ascending line-drive. The 'Art' of hitting a baseball could certainly be defined in the context of describing the ideal hitter—'He is one whose bat most consistently contacts and drives through the ball in a manner that facilitates a straight and ascending 'line-drive.'(To hit the ball in any other manner would be to miss-hit it.)"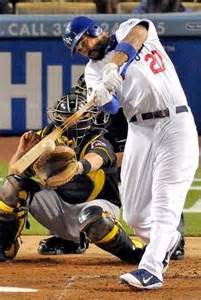 The preceding paragraph is an excerpt from my Book, The Principle of Baseball, and All There is to Know about Hitting. I have written many essays on the "Art" and "Science" of hitting a baseball, many of which are included in my book, previously mentioned. The following is an excerpt from my essay, "The Scientific-Artistry of Hitting a Baseball:
"Is the act of hitting a baseball efficiently an "Art' or a 'Science', neither, or both? Those who demonstrate a high degree of talent in any of the various art forms could easily be described as 'artists'. There is adequate evidence to indicate that many or most good artists (of which Batters are included) have a 'natural' propensity toward the artisanship in which they are engaged. But their optimal level of proficiency is most often derived from the degree to which they accumulate enhanced understanding by means of scientific examination of all aspects of their chosen profession. Therefore, hitting a baseball most effectively would have to be construed as both an 'Art and a Science'.
In professional Baseball, to be the best hitter you can be, you must apply science to your natural artistry or you will never achieve mastery over the elements that have superimposed a phenomenal limitation upon your highest expectations. Those outstanding physical athletes who make it to the 'Show', but eventually find themselves languishing  in mediocrity, are typically the very prospects who could become stellar bats-men if they would engage a scientific-examination conducive to complementing their artistic predisposition. And they, who are performing at the prevailing 'high' standard of Major-League batting proficiency, could be setting new and higher criteria, if a more pronounced attentiveness to scientific inquiry were investigated for their optimal development."
Matt Kemp has reached a point in his semi-illustrious career where intelligent pitchers have seen him enough to know his "margins for error" and can successfully circumvent his "natural-artistic" strong-points to wreak havoc on his phenomenal exhibition. Although he is still physically and mentally capable of demonstrating his sporadic prowess, he must now make certain adaptations of which neither he nor his "instructional-gurus" seem to be aware or willing to apply.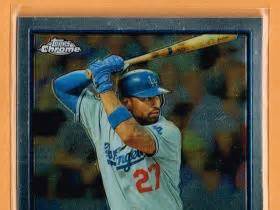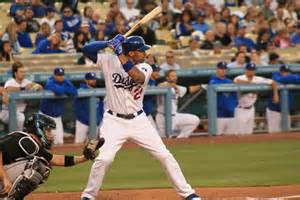 Prior to  his 2011 "banner-year" his somewhat high stance, and off-balance approach to the pitched ball (due largely to his tall stance and exaggerated "high-hands and bat")garnered for him no high merits except that of enormous potential for his occasional display of power, and speed of foot. Then, for some inexplicable reason, he lowered his stance to a surer foundation and refrained from taking a noticeable stride. The results of this simple change is what afforded him better balance, and a much better perspective and visual acuity for hitting the ball more consistently, and especially for refraining himself from swinging at the low, outside sliders that customarily struck him out. His only critical "margin for error" remained to be his high hands and bat, as well as the position of the front plant foot (especially now, since he just had surgery on it).
When a batter, who has found success for moderate amount of time, and then suffers the effects of an unfathomable "slump", he is most often at a loss for a rational explanation for that which he is now experiencing. The most common reason is that the pitcher(s) has discerned in the batter's technical mechanism a flaw that somehow precludes highest mechanical proficiency. Because he is not hitting as well as he did, and as well as he thinks he should, such batter will consciously or unconsciously make subtle changes that may end up merely exaccerbating his current situation while doing nothing to regain his former high status.
Matt Kemp has the good fortune of being under the tutelege of both Mark McGwire and Don Mattingly, and it may be for that reason that he has made somewhat of a come-back this past year, and would have made greater strides had it not been for his untimely stints on the Disabled List. Although he has lowered his stance, and tries to keep from striding, the two most debilitating aspects of his stance and approach to the pitched ball are his high hands and bat and his closed front foot.
Both Mattingly and McGwire maintained a low, powerful, well-balanced stance, but with their hands and bat just below the shoulders. In such a position there is hardly ever the temptation to swing at a pitch above the strike-zone, while being in perfect line to hit the high strike effectively. In Kemp's "high-bat" position, he is instinctively ready to pull down  to get to the strike zone, and will almost always miss the high strike by going under it. And lately he has developed the uncommon tendency of swinging in a "Horse-Shoe" fashion (down-under-up). Even when he makes good contact with the ball, his bat has the tendency to roll onto the ball, producing a hard bouncing ball, or (even when he hits a home-run) a looping line-drive. Most often he either strikes out or sends a towering fly-ball to the deepest part of the outfield. All this is due to his "high-hands and bat".
Other ball-players (even on his team) who have a high bat and are hitting somewhat effectively do so because they bring the bat to the "proper" hitting position as or before they stride.
Although Hanley Ramirez has a few "margins for error" in his stance and stride, at least his approach to the ball gets the bat ready to make better direct contact. But, of course, with his high leg-kick, he is vulnerable to varying circumstances.
Now that Matt Kemp has established a low, well-balanced, and powerful-looking stance, and seems to have the intention of not striding, he needs only make 3 minor adjustments:
1. Lower his hands and bat to a legitimate starting position. 
2. Point his front foot 45 degrees to the pitcher (Joe D'
and Ted Williams)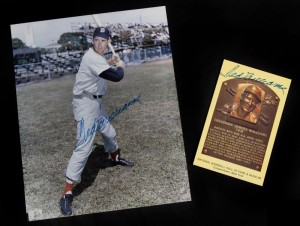 and be balanced from beginning to end of swing, and without fear of dislocating knee and ankle.
3. Just press down onto the front foot (without any stride or foot readjustment) as he is driving his back knee and hips forward (like Barry Bonds).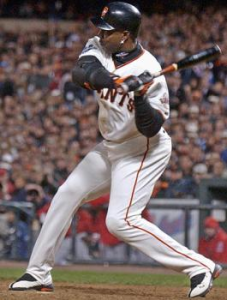 Upon being "born again" in 2011, I noticed that Matt refrained from striding, or moving his front foot. It was a far cry from his previous year. In 2011 he seemed to have rid himself of his penchant for swinging recklessly at low, outside sliders. In his new stable stance, he was able to see the ball most clearly because his head and eyes didn't move with a stride. His approach to the ball was of MVP quality. Then, his only foible was his high-hands and bat, but because he had everything else working for him, he didn't suffer greatly. Now, I have noticed that although he maintains a low, stable stance, he has the tendency to "pull" his front foot slightly to the left. It is probably an unconscious effort to accommodate the "bad" position of the front foot pointing at home-plate, to allow him to open up faster to the inside pitch (but making him vulnerable to the outside pitch). Whether he realizes it or not, every batter (Ryan Howard, Harold Baines, etc.) who points his foot toward home-plate (or farther), and tries to apply pressure-power to the front leg, will inadvertently feel extreme strain to the ligaments and tendons of the ankle and knee joints. Most batters who make a practice of pointing the front foot to home-plate usually abruptly displace the front cleat from the ground as they  power through their swings. In that ultra-closed position, it is impossible to maximize the hip-action without almost certainly dislocating the ankle or knee. The solution is simply to do what Joe DiMaggio, Ted Williams, and other great hitters have done, and are doing — point the front foot 45 degrees toward the pitcher. Matt might want to think seriously about that, just having had surgery on his left ankle.
I feel another COME-BACK on its way. I hope Matt and all Dodger fans will see it together.